Posted by admin on 08/7/10 in Cheese
Trying to Categorize Cheeses
The final installment in my intro to Cheese Series.
There is no one set of rules by which to categorize the world's cheeses. After thousands of years of cheese-making , we still are unable to agree on one set of rules, and here is why !
Some factors are very difficult to quantify

– for example the classification relying  on smell. Detection and rating vary from person to person depending on how acute their sense of smell is.
No one category can address all types and nuances

. For example, Classification relying on rind alone,puts hundreds of cheeses with no rind in the same category. Another example is classification by aging  that would put a Danish blue cheese and a Farmhouse Brie in the same category.
Traveling between different categories

- Cheese is a living thing. Every cheese is released with a certain fat content and certain water content. As the cheese ages these percentages change due to water evaporation.Hence, the same triple creamed cheese , tastes much more pungent a month after you bought it! Moreover, a cheese that was classified as Semi-hard like a dutch Gouda will turn rock hard as it ages.
Knowing this, we can now learn to pick out, describe and appreciate cheeses using the more common categories for classification:
Texture
Classification determined by water content:
Very soft

- 80 % water , spoonable, includes most fresh cheeses like Cottage cheese, Chevre,Labane.
Soft

– 50 %-70% water, spreadable, includes the double and triple creamed cheeses ( Brie , Camembert,Robiola,Taleggio, Colummiers…), but also some feta cheeses( cow's milk mainly).
Semihard

- 40%-50% water, Sliceable, includes Edam,Gouda,Manchego,
Hard

- 30%-50% water, very firm and dense, includes Parmigiano Reggiano , Pecorino,Piave,Ossau iraty, Mimolette..
Blue

-40%-50% water,a classification within the semi hard group of cheeses,may be sliceable,spreadable or crumbly, includes all blue veined cheeses, like; Valdeon,Cabrales,Roquefort,Gorgonzola…

Aging
Length of aging prior to release
Fresh

- Unaged, produced and released, include Cottage cheese , Cream cheese, Chevre.
Brief Molding period

- 2 weeks-10 weeks, produced and allowed to take shape in a mold ( tub or basket), or for the rind to bloom,includes Feta, almost all blue cheeses and bloomy rind cheeses ( Grayson, Taleggio,Brie…).
Aged

-Anywhere between 2 months and 5 years, depending on the cheese, produced and allowed to mature until the cheesemaker deems it fully aged and flavored, includes all hard and semi hard cheeses,like; Parmigiano Reggiano, Idiazabal,Pecorino, Cheddar,Gouda…

Type of Milk
Classification by what animal produces the milk.
The most common are Cow, Goat and Sheep (ewe), but there are also cheeses made with a mix of milk from different animals, and even cheeses from Buffalo,Moose , Camel or Yak's milk.
Smell
Classification by degree of pungency.
A very difficult classification, works mainly for Bloomy rind cheeses like-Taleggio, Robiola, Camembert, Brie…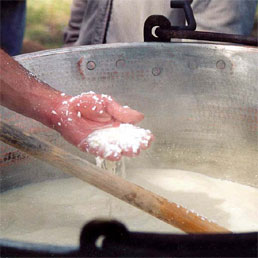 Method of making
Classification by main cheesemaking traditional methods.
Fresh Cheese-

Unaged or ripened,includes some  slightly pressed cheeses( Feta ),whey based cheeses that are only strained ( Urda, Ricotta),and the spoonable, Cottage, Cream cheese,Chevre.
Pasta Filata Cheese

- The curds are cooked,then stretched and folded repeatedly before molding or shaping. The cheese is then ready to eat or may be ripened further and even smoked ( Mozzarella, Provolone, Paneer,Kashkaval).
Unpressed Ripened Cheese

- The curds are minimally cut and allowed to drain . They are then ripened with mold or bacteria on the cheese surface ( Camembert, Brie,Taleggio…) or using a starter culture that is applied to the surface or inoculated into the cheese ( Stilton)
Pressed and Ripened Cheese

- The curds are pressed before ripening.Examples- Manchego, Idiazabal,Cheddar,
Cooked ,Pressed and ripened

- The curds are cooked in the whey, then milled, molded and pressed. Then the cheeses are aged for up to 5 years ( Parmigiano Reggiano, Piave, Gouda,Edam,Emmental …)
Processed

-After the initial cheese-making process is complete ( See 2nd chapter of this series), more milk and emulsifying salts are added, food coloring and preservatives. This yields a very consistent product, yet unhealthy. Unfortunately ,these cheeses, sold in blocks,slices, tubes and even sprays are  the most commonly consumed type  Americans buy and consume more than any other ( American cheese,Kraft singles,Cheez whiz ….and other varieties of crap!)
Rind
Classification by type of rind . The rind of the cheese controls the rate of water evaporation from the cheese, oxidation of the surface and escape of gases from within.
No rind

- The cheese is produced and packaged or at most strained,salted and packed .Includes all fresh cheeses,like; Ricotta,Urda,Cream cheese,Feta…
White mold rind

- The mold grows on the surface and is edible. The rind is sometimes brushed away a number of times throughout ripening ,so the cheese will develop a thicker rind. The mold is white at first and as the cheese ages it darkens.Includes; Camembert,Brie,Robiola bosina
Washed rind

- the rind is washed with alcohol, usually Marc (Grape pomace Brandy ) or wine. The alcohol dries the surface of the cheese and the white boomy mold turns pinkish-Orange. The rind is moist and a has a slightly grainy mouth feel, thus not usually eaten.Includes Taleggio, Robiola Pineta,Grayson,Pont I'Eveque,
Natural dry rind

- The rind is in fact the dry outer surface of the cheese.The rind can be brushed, scrape,oiled or wrapped in cloth depending on the desired result.The rind is inedible.includes Parmigiano Reggiano,Cheddar,Piave,…
Organic rind

-Leaves, spices and herbs applied to the surface of the cheese after its made.The reason is to impart flavor  and protect from insects traditionally( Fleur de Maquis,Corsican ewe's milk cheese rolled in herbs & Juniper berries, or Majorero Pimenton -rolled in smoked pepper).another reason is to lock in moisture-(for example; Valdeon-wrapped in Sycamore leaves, Banon)
Artificial rinds

-Added after the cheese is made.  inedible. Includes Gouda, Edam                 (wax),Cheddar ( Plastic) and ash edible in St .Maure for example.
So….these are just the main known categories. When I describe a cheese ,I try to use all the categories that apply, focusing on the ones that characterize  the cheese more than others.

One last example. Describing-
Morbier
Origin

: Comte region, North East France
Milk

: Raw or Pasteurized Cow's milk.
Texture

: Semi hard (40 %-50% water), sliceable.
Method of making

: Pressed and ripened,with a layer of ash running through the center.
Smell

: mild pungenc
Rind

: Natural dry  rind,brushed for firmness.
Aging

: 2-3 months
Fat content

: 45 %
I

nteresting

facts: This cheese was traditionally made for consumption by the cheesemakers themselves. Leftover curds were put in a tub, then covered with ash to repel insects , while waiting for additional leftover  curds from the evening or the next day.